PASAJCAP NEWSLETTER 2012
The two new cottages are now offering more comfort and more space.
They are turning into really nice accommodations.
It is another concept –more rustic and closer to the nature affording the
possibility to enjoy Pasajcap with a lower budget.
The guest room has now a working kitchen and a furnished garden
New Constructions

A small office/store.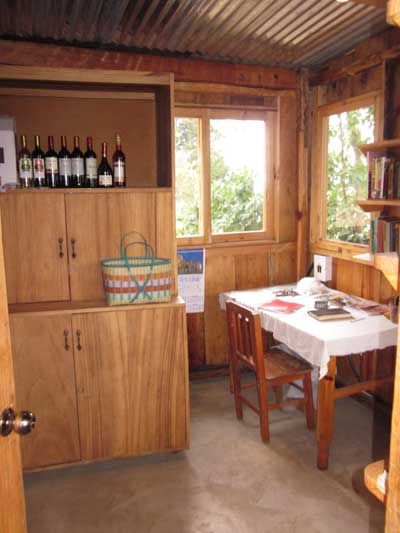 The place to get Information, arrange some services,
have a look at the maps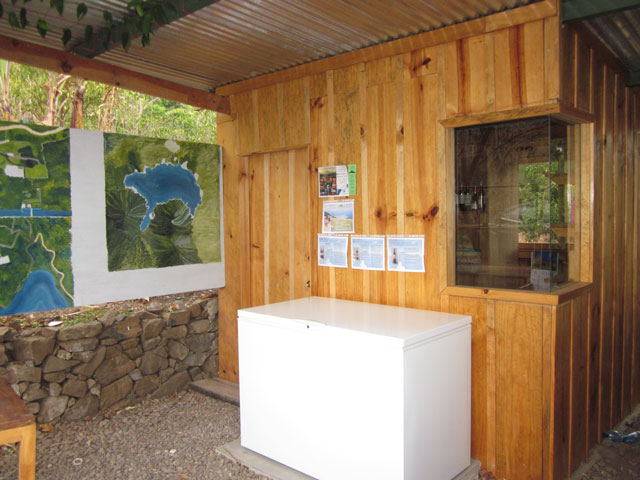 Our products on sale
Good selection of wines from France Argentina and Chile.
Best quality of meat mostly tenderloin.

Fish, shrimps, lobsters and more .. from the Caribbean sea.
Books
New or improved Services
Workers premises and workshop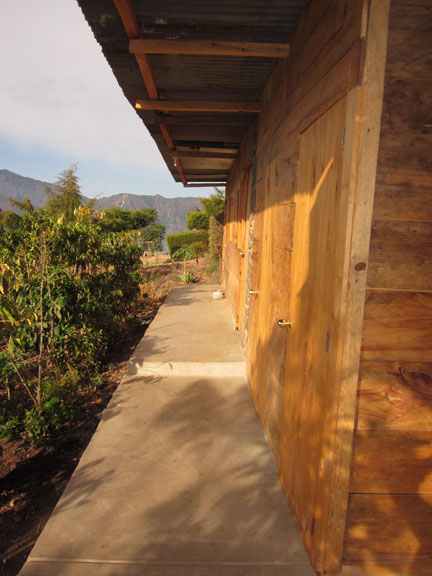 Common services for visitors workers and campers…
Toilets & Bathroom a large laundry area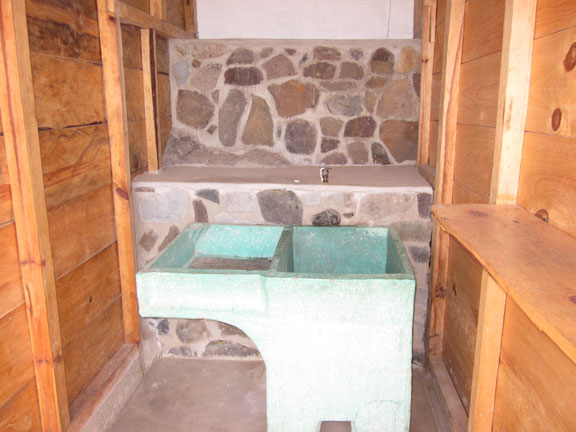 Extension of the parking areas, more electric outlets and
water supplies all around the property 
Helicopter Landing Pad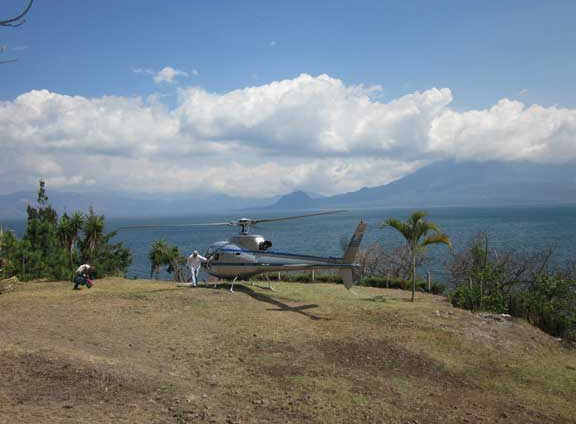 Faster Internet Provider
Our internet service with hughes net was too limited and
we have now a new provider since the beginning of the year.
It is so much faster and the service is not cut down in case of overuse of the bandwidth.

Security

Large safe boxes are installed in every apartment
The shores have been protected and maintained with large stone walls
according to the lake rise and it is as nice as always to enjoy swimming and
relaxing at the lake.
Private Trips
We organize private trips "a la carte" all around the country.
Adventure traveling but at the same time with the feel of being like at home.
Our usual driver Chema is doing a great job driving our customers all over ,
visiting amazing areas that not many tourists have the chance to see.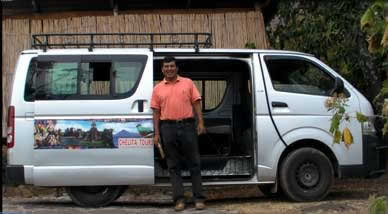 We try to provide private houses or friends hotels on the way.
It is the opportunity to discover magic spots like Chemuc Champey,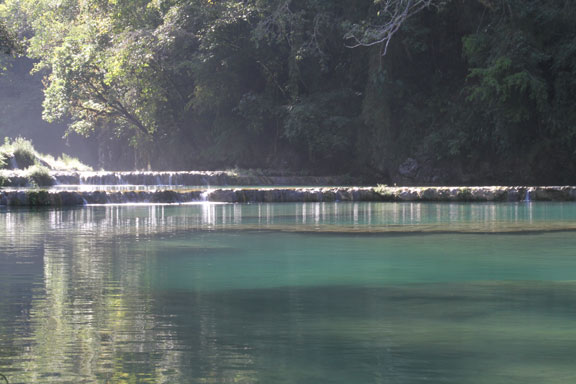 Rio Dulce river…and some very remote and beautiful places in Guatemala.


We had some guests who stopped at Pasajcap with their
house (vehicles) on their way from Argentina to Alaska.
As you can see on the website www.bourlingueurs .com
Pasajcap deserves a good rank on this long fabulous trip.
Since there are not very many places in Central America to host
this kind of travelers we are developing the corresponding services
for them to stay- camping areas in progress, parking spots,…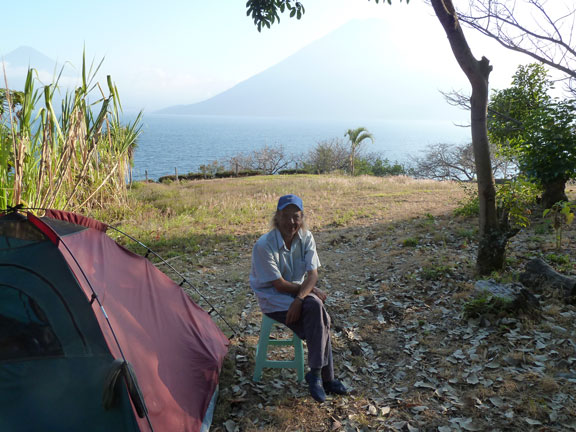 Camping with a view
Improving and Protecting the Natural Resources
Our garden is getting more productive and
it is amazing to see the variety of growing fruit and vegetables
avocadoes, bananas, limes, papaya, goyavas, mangoes, salads, tomatoes, beans…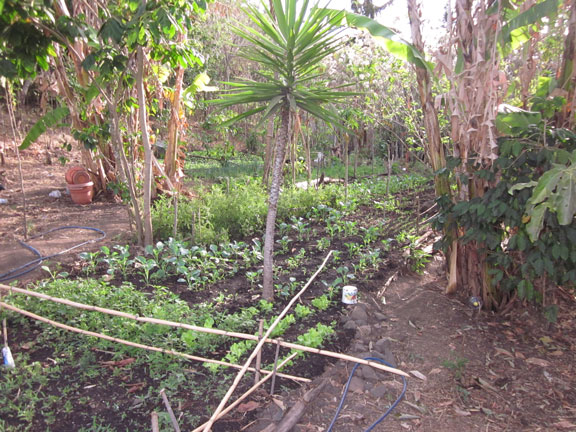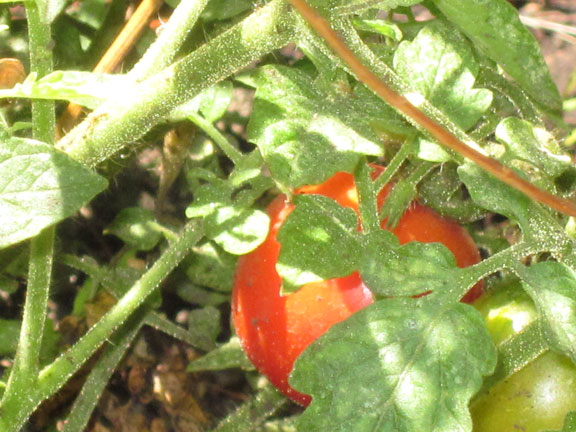 Pasajcap is the heaven of lots of birds and bird watchers.
Click here to have a look at the birdwatchers photo gallery
More than half of the land of the property remains totally virgin
allowing the local ecosystems to maintain their balance.
Everyone here is trying to maintain the volume of plastic garbage as low as possible.
Pasajcap and the Rental market

The rental rates are unchanged since 2006 with significant and constant
improvements of the  services  and facilities at the property.
All the workers are working at the property for many years mostly
because their wages are higher than the usual. 
A good service generally goes along with trustful and happy workers.
The yearly occupancy rate is increasing to get close to 85%.
Months of low season like May  and October are now booked out.
Reading the numerous published guests comments or
some guest blogs may one think that it is too good to be true. 

Year after year Pasajcap is building up its identity and its image
Quality and security for very reasonable rates
An exceptional natural site and a good concept Peaceful and quiet.
Good and professional support of the working team. It makes everything easier.
All the steps from booking the property until the
end of the stay are carefully taken care of.
There are more and more people able to work anywhere
as long as they have a good internet connection.
Pasajcap meet with their expectations.
It is a good and practical place to live and work for a
very reasonable budget and a great quality of life.